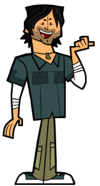 Chris McLean jest gospodarzem reality show z serii Totalnej Porażki.

Był gospodarzem w prawie wszystkich odcinkach nie licząc odcinków Podstawy naprężenia, Jesteś tam Yeti?, Jedz, puszczaj i bądź ostrożny oraz podsumowań (nie licząc odcinka Kto będzie milionerem?). Został aresztowany pod koniec czwartego sezonu za skażenie wyspy toksycznymi odpadami. Został jednak warunkowo zwolniony z więzienia i powrócił do prowadzenia Totalnej Porażki: Plejady Gwiazd.

Ma czarne włosy i oczy oraz niedogolony zarost. Jest bardzo przystojny, dzięki czemu ma wiele fanek. Dlatego też bardzo dba o swój wygląd. Wielokrotnie zdobywał nagrodę Gemmie dla najlepszego prowadzącego reality show. Bardzo traci na bliższym poznaniu o czym mogli się przekonać młodzi zawodnicy. Jest typowym egocentrykiem, dba o to aby jemu było dobrze. Nad uczestnikami programu  znęca się, zmuszając ich do życia w kiepskich warunkach (gdy sam pławi się w luksusie) oraz do wykonywania bardzo trudnych i niebezpiecznych zadań. W swoim fachu jest zawodowcem: potrafi przyciągnąć ludzi przed telewizory, nie patrząc na ewentualne konsekwencje. Jako gospodarz jest panem i władcą programu: raz zmienia reguły gry, a innym razem surowo je przestrzega (ważne aby oglądalność była wysoka). Rzadko ulega prośbom zawodników. Gdyby nie Harold, o mało co nie zbankrutował w 10 odcinku drugiego sezonu.
Ad blocker interference detected!
Wikia is a free-to-use site that makes money from advertising. We have a modified experience for viewers using ad blockers

Wikia is not accessible if you've made further modifications. Remove the custom ad blocker rule(s) and the page will load as expected.