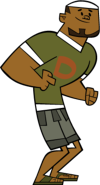 Devon Joseph "DJ" to uczestnik Totalnej Porażki z pierwszej obsady. Na Wyspie Totalnej Porażki (odcinki 1-19 i 27) rywalizował w drużynie Zabójczych Okoni. Na Planie Totalnej Porażki (odcinki 1-9) występował w drużynie Trzeszczących Żarów. Dostał się również do Totalnej Porażki w Trasie (odcinki 1-11), gdzie grał w Drużynie Zwycięzców. Był w niej najlepszym członkiem, mimo, że nie doszedł do rozłączenia drużyn .Na Szczęście Pod Koniec 1 Odcinku Total Drama Island Bus Wyleciał w Niebo i Dostał Się na Obóz.

Osobowość
Mimo swej potężnej sylwetki i olbrzymiej siły, jest osobą niezwykle łagodną i bojaźliwą. Jest więc bardzo lubiany. Całkiem nieźle sobie radzi ze zrozumieniem kobiet. Z pewnością ma na to fakt, że wychowywany jest tylko przez swoją mamusię. Często za nią tęskni, gdyż bardzo ją kocha. Postępuje zgodnie z normami etycznymi, których go nauczyła.
Ad blocker interference detected!
Wikia is a free-to-use site that makes money from advertising. We have a modified experience for viewers using ad blockers

Wikia is not accessible if you've made further modifications. Remove the custom ad blocker rule(s) and the page will load as expected.