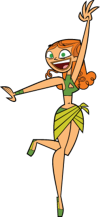 Izzy to uczestniczka Totalnej Porażki.

Na Wyspie Totalnej Porażki rywalizowała w drużynie Wrzeszczących Susłów (odcinki 1-8, 15-20 i 27), chociaż początkowo została przydzielona do Zabójczych Okoni. Na Planie Totalnej Porażki (odcinki 1-3 i 7-11) występowała w drużynie Zabójczych Makiet. Dostała się również do Totalnej Porażki w Trasie (odcinki 1-11), gdzie została przydzielona do Drużyny Amazonek, ale szybko przeniosła się do Drużyny Chris Jest Naprawdę Bardzo Bardzo Bardzo Bardzo Słodki. Mimo, że nie występowała jako zawodnik, pojawiła się gościnnie w Totalnej Porażce: Zemście Wyspy i Totalnej Porażce: Plejadzie Gwiazd.

Osobowość
Jest zwariowaną i nieprzewidywalną psycholką. Uwielbia łgać. Z drugiej strony jest przyjacielska i chętna do pomocy. Mało kto jest w stanie ją zrozumieć. Nie miała z tego powodu przyjaciół, więc ma wymyślonego przyjaciela, Phila. Chodziła od końca pierwszego sezonu z Owenem. Jednak w jedenastym odcinku trzeciego sezonu zerwała z nim jako Mózgozilla. Wojsko zgarnęło ją ze względu na ,,otrzymaną" mądrość. Jednak w 12 odcinku Totalnej Porażki w Trasie znów stała się ,,sobą"  po upadku z koła fortuny.
Ad blocker interference detected!
Wikia is a free-to-use site that makes money from advertising. We have a modified experience for viewers using ad blockers

Wikia is not accessible if you've made further modifications. Remove the custom ad blocker rule(s) and the page will load as expected.