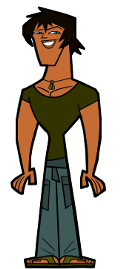 Justin to uczestnik Totalnej Porażki. Na Wyspie Totalnej Porażki (odcinki 1-5) rywalizował w drużynie Wrzeszczących Susłów. Na Planie Totalnej Porażki (odcinki 1-19) należał do drużyny Zabójczych Makiet, gdzie był jednym z dwóch głównych antogonistów. Potem jednak nie dostał się do III sezonu.

Jest w to niezwykle przystojny chłopak, który samym wyglądem wprowadza w zachwyt prawie wszystkie kobiety, a nawet niektórych mężczyzn (czasami nawet zwierzęta). Jest modelem. Jest bardzo przewrażliwiony na swoim punkcie: dba o to by się nie pokaleczyć i nie oszpecić oraz niechętnie wykonuje różnego rodzaju prace. Często przegląda się w lusterku. Jako dziecko był niezwykle piękny i popularny. Nie jest zbyt inteligentny, jednak umie być podstępny, kombinować i obmyślić dobrą strategie.

W 27 odcinku PTP pokazano, że Justin należy do zespołu Porażkowi Bracia.
Ad blocker interference detected!
Wikia is a free-to-use site that makes money from advertising. We have a modified experience for viewers using ad blockers

Wikia is not accessible if you've made further modifications. Remove the custom ad blocker rule(s) and the page will load as expected.