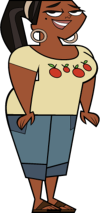 Leshawna to uczestniczka Totalnej Porażki z pierwszej obsady. Na Wyspie Totalnej Porażki (odcinki 1-22) rywalizowała w drużynie Wrzeszczących Susłów. Na Planie Totalnej Porażki (odcinki 1-17) należała do drużyny Trzeszczących Żarów. Wystąpiła również w Totalnej Porażce w Trasie (odcinki 1-7), gdzie była członkiem Drużyny Zwycięzców.

Osobowość
Jest osobą pewną siebie, trochę zarozumiałą. Jest bardzo lubiana. Jej największą przyjaciółką jest Jasmine. Żywi wstręt do podłych ludzi. Chętnie udziela pomocy i dlatego jako wolontariuszka pomaga dzieciakom ulicy, które nazywają ją Big Sistah. Ona zaś traktuje ich jak młodsze rodzeństwo. Połowa jej żywi uczucie do Harolda.
Ad blocker interference detected!
Wikia is a free-to-use site that makes money from advertising. We have a modified experience for viewers using ad blockers

Wikia is not accessible if you've made further modifications. Remove the custom ad blocker rule(s) and the page will load as expected.