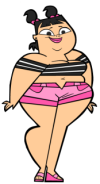 Sadie to uczestniczka Totalnej Porażki. Na Wyspie Totalnej Porażki (odcinki 1-11) rywalizowała w drużynie Zabójczych Okoni. Potem do kolejnych sezonów już się nie dostała.

Wychowywała się w małym miasteczku, gdzie poznała swą najlepszą przyjaciółkę Katie. Robią one wszystko razem, ubierają się tak samo (w odcinku specjalnym PTP też razem ubrały się na zielono), mają te same pasje. Świetnie się dopełniają np. Katie umie prowadzić samochód, a Sadie wie jak dojechać do celu.
Ad blocker interference detected!
Wikia is a free-to-use site that makes money from advertising. We have a modified experience for viewers using ad blockers

Wikia is not accessible if you've made further modifications. Remove the custom ad blocker rule(s) and the page will load as expected.