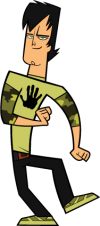 Trent to uczestnik Totalnej Porażki. Na Wyspie Totalnej Porażki (odcinki 1-16) rywalizował w drużynie Wrzeszczących Susłów. Na Planie Totalnej Porażki (odcinki 1-5) należał do drużyny Zabójczych Makiet. Potem jednak nie dostał się do III sezonu. Na Szczęście Dostał Się Do Total Drama Island Bus Ale Wypada w Odcinku 10.Należy do Porażkowych Braci.

Jest to przyjacielski i bardzo przystojny chłopak, który ładnie śpiewa i gra na gitarze. Jego pasją są motocykle. Ma wiele fanów. Jest bardzo popularny ze względu na charakter i wygląd. Miał wiele dziewczyn. Jego ojciec jest prawnikiem i marzy, by Trent też nim został.
Ad blocker interference detected!
Wikia is a free-to-use site that makes money from advertising. We have a modified experience for viewers using ad blockers

Wikia is not accessible if you've made further modifications. Remove the custom ad blocker rule(s) and the page will load as expected.